Eureka
Regular price
Sale price
CHF 597.95
Unit price
per
Sale
Sold out
The brand new Eureka Mignon Single Dose from the new Eureka Oro Line is a coffee grinder with the proven design of the Mignon series combined with the grinder technology of the significantly larger models.
With its patented 65mm Diamond Inside grinding discs, it sets a new standard in this price range. This mill was trimmed to "Zero Retention" without exception. The inclination of approx. 15° helps to completely empty the grinding chamber.

ELR System (Extremely Low Retention): The perfect inclination of the grinding chamber (15°), combined with special technical solutions, ensures a retention close to zero.
New Single Dose bean container with oak wood lid (45 g) and rotating metal slider.

With the stainless steel dosing cup (45 g), you can simply pour ground coffee directly into the portafilter and thus keep your workplace clean.
Thanks to the included Mignon Blow Up Cleaning, you can prepare your next shot with a grinding chamber that is always clean.

Oak wood base, for an even better optimization of the work surface.
The special combination of motor and Diamond Inside grinding discs (65 mm) guarantees a high grinding speed (2.3 - 2.8 g/s espresso; 2.8 - 3.3 g/s brew) and the best result with every grind setting.

Maximum silence, thanks to the "Silent Technology" that allows to achieve a unique silence (about 60 dB).
"High Speed" maintenance, quick and easy, with no risk of losing the grind setting.


- 65mm diameter grinding discs (Diamond Inside - pantented Eureka)
- Stepless regulation of the degree of grinding
- Silent technology
- ACE System (Anti-Clump & Electrostaticity system)
- Universal hands-free fork
- Motor speed 1650 rpm / 320 watts
- Bean container volume 45gr.
- Grinding speed: 2.3 - 2.8 espresso| 2.8 - 3.3 Brew
- Mignon Blow Up Cleaning included
- Dosing cup included
- Dimensions: height 380mm, width: 120mm, depth: 180mm
- Weight: 7.2kg
shares
Questions? Make an appointment for a consultation
View full details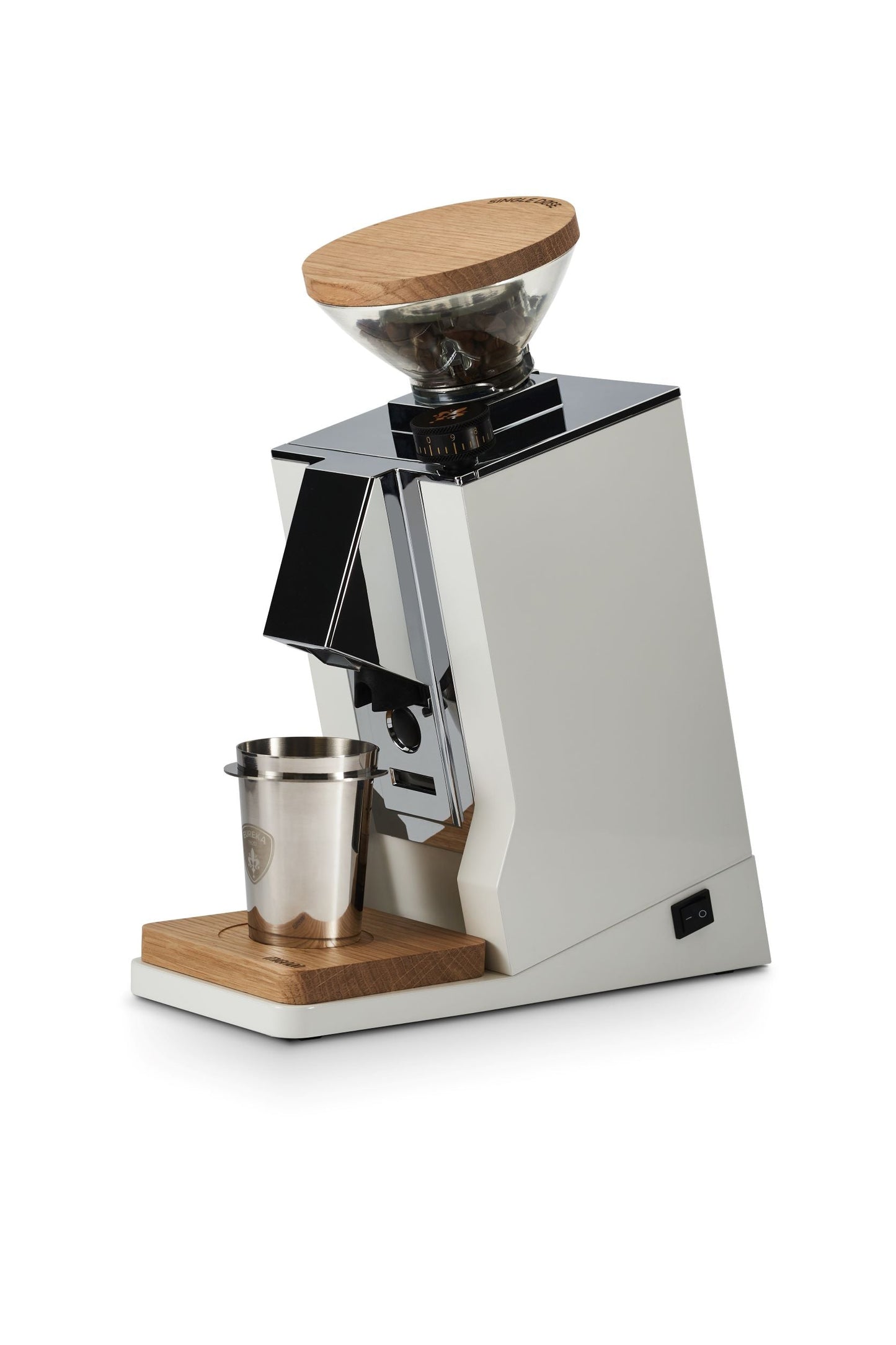 CONSULTATION APPOINTMENT
Individual coffee equipment advice at the Coffee Coaching Club Bern: We will find your perfect setup

It's no secret: the perfect cup of coffee requires the right equipment. Whether it is an espresso machine, a coffee grinder or special barista tools, at the Coffee Coaching Club in Bern we will help you to make your very personal coffee dreams come true. With our individual coffee equipment advice, we respond to your needs in order to find the perfect setup for you.

Our advice starts with listening: What is your favorite coffee? How often do you drink coffee? Do you prefer a quick espresso in the morning or a relaxed cup of filter coffee in the afternoon? All these questions help us to get a picture of your preferences and needs.

Then it's about the equipment: from espresso machines and coffee grinders to various barista tools, we offer a wide range of products. Our experienced consultants can explain the differences and advantages of the individual devices to you and support you in choosing the right equipment. We always take your individual requirements and preferences into account.

But our advice does not end with the sale. If you buy an espresso machine from us, we also offer you a barista course. In this course you will learn how to get the most out of your new machine and how to prepare delicious espresso shots. In this way you can expand your knowledge of coffee and at the same time get an intensive introduction to your new device.

But even after the purchase, we are still there for you. We know that there are always questions and that sometimes the perfect cup of coffee is a journey that requires patience and learning. That's why we continue to support you with words and deeds even after your purchase.

Our goal at the Coffee Coaching Club in Bern is not only to offer you the right equipment, but also to give you the knowledge and skills you need to enjoy your coffee the way you like it best. That's why we always strive to accompany you on your coffee journey, from advice to the cup of coffee in your hand.

Visit us at the Coffee Coaching Club in Bern and experience how our individual coffee equipment advice can make your coffee dreams come true. Because with us everything revolves around you and your coffee.