Airscape
Regular price
CHF 39.90
Sale price
CHF 39.75
Unit price
per
Sale
Sold out
Airscape Coffee Canister, airtight coffee storage for 500g
Bean/Ground coffee container
Airscape storage canister: Fresh coffee, enjoy it for longer
Dear coffee lover,
Do you want to enjoy your coffee fresh for as long as possible? Then the Airscape storage canister is just right for you. With its unique vacuum seal, it keeps your coffee fresh longer than traditional storage containers.
How does this work? The airscape closure ensures that the air is sucked out of the container. This greatly reduces the oxygen content in the container. Oxygen is the main enemy of coffee as it accelerates the oxidation of coffee oils. This oxidation is what makes coffee bitter and rancid.
Application examples
The Airscape storage canister is ideal for storing coffee beans, coffee powder and other dry foods. Here are some application examples:
Coffee Beans: Store your coffee beans in an airscape container to keep them fresher for longer. This means you can enjoy the full taste of your coffee for even longer.
Coffee powder: You can also store coffee powder in an airscape container. This means it retains its taste and aromas longer.
Other dry foods: The Airscape container is also ideal for storing other dry foods, such as nuts, cereals or spices.
Available in all colors in the Coffee Coaching Club
In the Coffee Coaching Club you will find the Airscape storage canister in your favorite color . This means you can adapt it perfectly to your interior.
We use these in our specialty coffee shop in Bern and we can confirm: they are durable and preserve the wonderful aromas in style.
The Airscape® forces the freshness-destroying air out of the canister, extending the life of your coffee, tea, flour, sugar, pet food or any perishable goods, to keep what's good today, good tomorrow too! The BPA-free clear, top lid allows you to see how much is left in the container, and the inner Airscape lid (also BPA-free) makes a fun "swooshing" noise as its pushed down, so you can actually hear it working . Made from restaurant-grade, 18/8 stainless steel with an enamel paint finish.
shares
Questions? Make an appointment for a consultation
View full details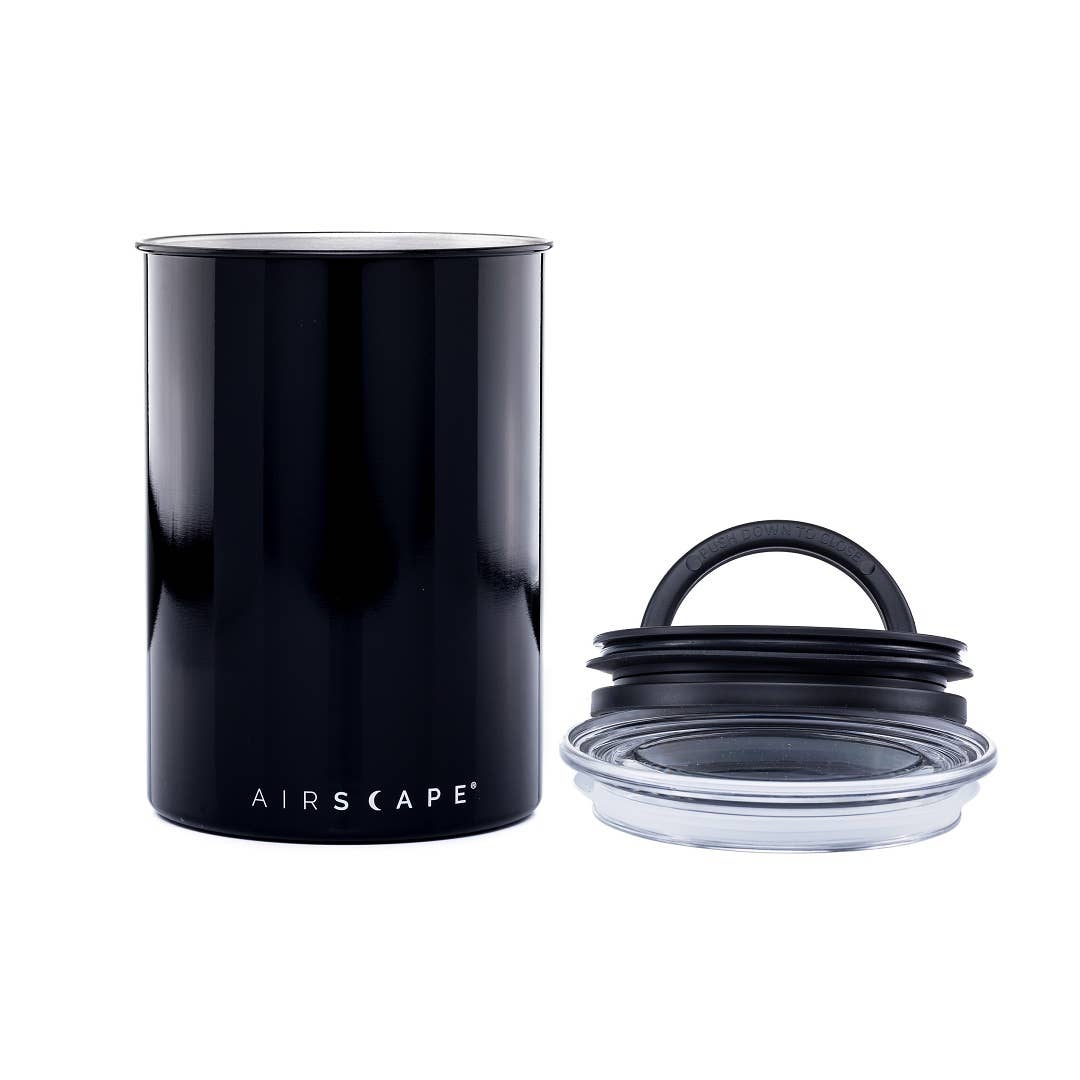 CONSULTATION APPOINTMENT
Individual coffee equipment advice at the Coffee Coaching Club Bern: We will find your perfect setup

It's no secret: the perfect cup of coffee requires the right equipment. Whether it is an espresso machine, a coffee grinder or special barista tools, at the Coffee Coaching Club in Bern we will help you to make your very personal coffee dreams come true. With our individual coffee equipment advice, we respond to your needs in order to find the perfect setup for you.

Our advice starts with listening: What is your favorite coffee? How often do you drink coffee? Do you prefer a quick espresso in the morning or a relaxed cup of filter coffee in the afternoon? All these questions help us to get a picture of your preferences and needs.

Then it's about the equipment: from espresso machines and coffee grinders to various barista tools, we offer a wide range of products. Our experienced consultants can explain the differences and advantages of the individual devices to you and support you in choosing the right equipment. We always take your individual requirements and preferences into account.

But our advice does not end with the sale. If you buy an espresso machine from us, we also offer you a barista course. In this course you will learn how to get the most out of your new machine and how to prepare delicious espresso shots. In this way you can expand your knowledge of coffee and at the same time get an intensive introduction to your new device.

But even after the purchase, we are still there for you. We know that there are always questions and that sometimes the perfect cup of coffee is a journey that requires patience and learning. That's why we continue to support you with words and deeds even after your purchase.

Our goal at the Coffee Coaching Club in Bern is not only to offer you the right equipment, but also to give you the knowledge and skills you need to enjoy your coffee the way you like it best. That's why we always strive to accompany you on your coffee journey, from advice to the cup of coffee in your hand.

Visit us at the Coffee Coaching Club in Bern and experience how our individual coffee equipment advice can make your coffee dreams come true. Because with us everything revolves around you and your coffee.