Bean Bros
Regular price
Sale price
CHF 17.95
Unit price
per
Sale
Sold out
Naturally processed Ethiopian Filter coffee from the Guji Zone in Ethiopia.
You can expect to find notes of Raspberries & Tropical Fruit with an excellent floral and clean finish. It's perfect for filter brewing, or clean espresso. Can also be combined with milk for a delicious Flat white.
This coffee is naturally processed, meaning that drying coffee cherries patios or raised beds in the sun. To prevent the cherries from spoiling, they are raked and turned throughout the day and then covered at night or during rainstorms. This process can take 4-6 weeks. It is a traditional method of processing coffee. Using this process gives the coffee its beautiful flavor clarity. It's a satisfying, refreshing cup.
Location: Guji zone in Ethiopia
Producer: Hambella Station Farmer: Several Smallholders
Varietal: Native Heirloom, from several smallholders.
Growing Altitude: 2000 meters Processing Method:
Natural Flavor Notes: Raspberries, Tropical Fruit, Plum, a hint of Jasmine"
Roast: Filters
Delivery only from 03/13/2023
shares
Questions? Make an appointment for a consultation
View full details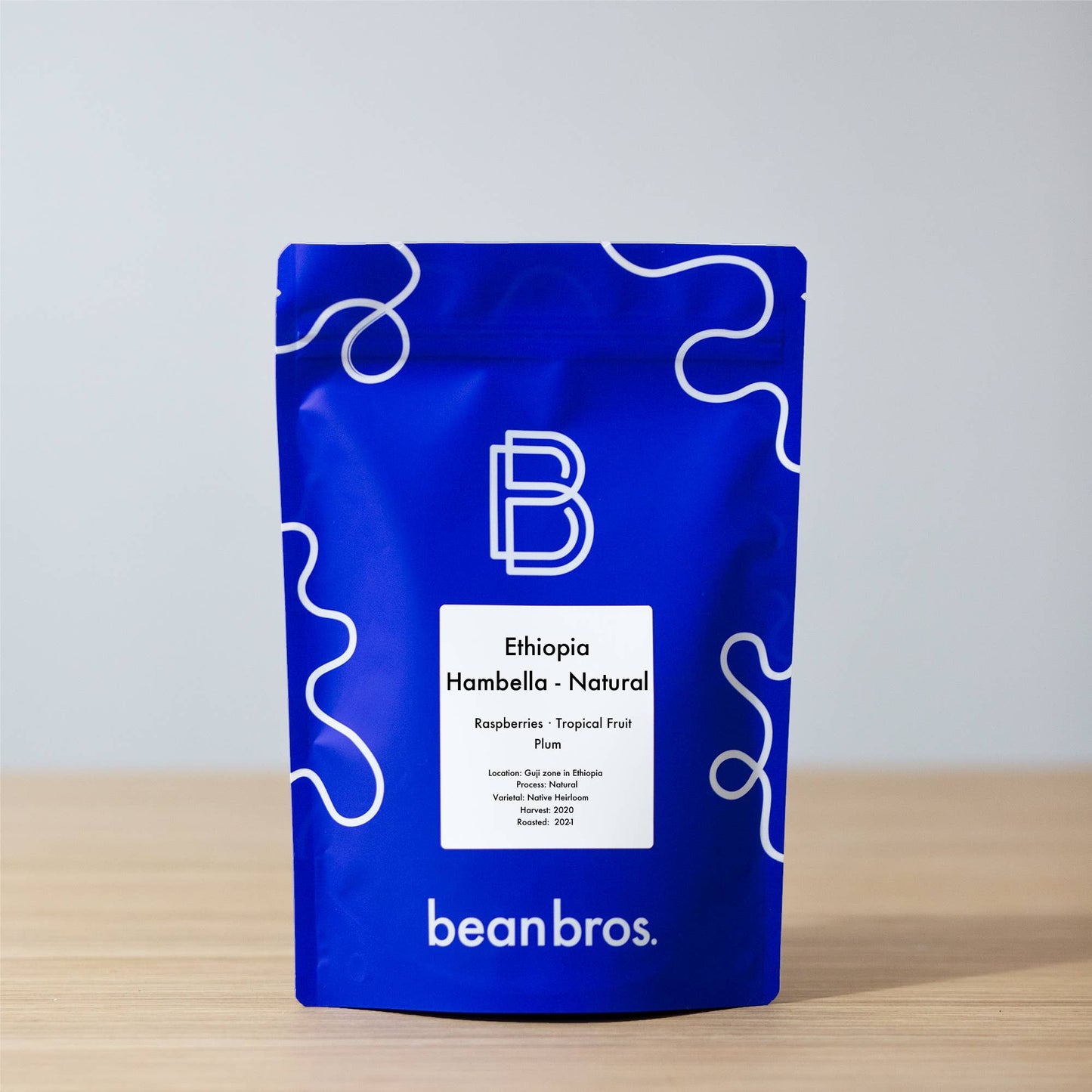 CONSULTATION APPOINTMENT
Individual coffee equipment advice at the Coffee Coaching Club Bern: We will find your perfect setup

It's no secret: the perfect cup of coffee requires the right equipment. Whether it is an espresso machine, a coffee grinder or special barista tools, at the Coffee Coaching Club in Bern we will help you to make your very personal coffee dreams come true. With our individual coffee equipment advice, we respond to your needs in order to find the perfect setup for you.

Our advice starts with listening: What is your favorite coffee? How often do you drink coffee? Do you prefer a quick espresso in the morning or a relaxed cup of filter coffee in the afternoon? All these questions help us to get a picture of your preferences and needs.

Then it's about the equipment: from espresso machines and coffee grinders to various barista tools, we offer a wide range of products. Our experienced consultants can explain the differences and advantages of the individual devices to you and support you in choosing the right equipment. We always take your individual requirements and preferences into account.

But our advice does not end with the sale. If you buy an espresso machine from us, we also offer you a barista course. In this course you will learn how to get the most out of your new machine and how to prepare delicious espresso shots. In this way you can expand your knowledge of coffee and at the same time get an intensive introduction to your new device.

But even after the purchase, we are still there for you. We know that there are always questions and that sometimes the perfect cup of coffee is a journey that requires patience and learning. That's why we continue to support you with words and deeds even after your purchase.

Our goal at the Coffee Coaching Club in Bern is not only to offer you the right equipment, but also to give you the knowledge and skills you need to enjoy your coffee the way you like it best. That's why we always strive to accompany you on your coffee journey, from advice to the cup of coffee in your hand.

Visit us at the Coffee Coaching Club in Bern and experience how our individual coffee equipment advice can make your coffee dreams come true. Because with us everything revolves around you and your coffee.