La Marzocco
Regular price
CHF 7,249.95
Regular price
Sale price
CHF 7,249.95
Unit price
per
Sale
Sold out
La Marzocco GS3 AV

Come by our showroom in Bern, extract and test our demonstration model.

Coffee Coaching Club Bonus: when you buy a La Marzocco, you get a free barista workshop (German or English) at our Coffee Coaching Club in Bern. As chemists and flavor developers, we look at coffee and coffee preparation from a refreshingly new perspective. This will help you get your espresso right away at home. If you opt for delivery (with a surcharge, see variants and details at the bottom of the description), the workshop will be held at your place.
In addition, you will always receive support and a Swiss guarantee after the purchase.

The sum of La Marzocco's experiences in your home.
With the La Marzocco GS3, almost a century of innovation in the espresso machine has been brought together. La Marzocco commercial espresso machines are used in coffee shops around the world. The GS3 aims for a perfect extraction of your shots. Once you own a GS3, you own a piece of history and an icon that you will pass on to the next generation. Engineered to meet the demands of everyday use, the GS3 will be your companion for years to come.
When the developers at La Marzocco set out to design their dream home machine, they challenged their team to combine all of the high-quality commercial components into a kitchen-ready machine that's ideal for the discerning home barista.
This espresso machine is the final step in a long journey that coffee takes from plantation to cup. The consistency created by a rotary pump and a closed temperature system ensures that the result combines all the efforts of the coffee farmer, processor and roaster.
Powerful steam for perfect microfoam
With a 3.5 liter steam boiler, your espresso won't have to wait for the latte art finish. The GS3 is equipped with the Cool Touch steam lance for more comfort and more powerful steam.
temperature stability
Dual boilers, a saturated brew group, PID control, and Quick-Key temperature control provide flexibility and stability to control the variables that affect flavor.
IOT/Smartphone function: integrated
Dual boiler system made of stainless steel
Internal rotary pump
Saturated brew group
preheating system
PID temperature control
Fast heating: about 25min
Standard Swiss plug for every kitchen
Internal water tank (fixed water kit included)
Performance Touch steam lance
Espresso delivery: push of a button
Steam reference: steam handle
Tea reference: hot water button
Espresso temperature: digitally adjustable
Tea temperature: manually adjustable
Steam pressure: digitally adjustable
Water tank display: display
Display temperature: display
Boiler pressure display 1: manometer
Boiler pressure display 2: manometer
GS3 kit includes:
1 tamper, 1 portafilter single outlet, 1 portafilter double outlet, sieves + blind sieve, operating instructions & quick starter guide, cleaning powder, fixed water kit, key for bleeding the brew group
Compatible with La Marzocco Home App:
AppStore
google play
Dimensions: 35.5 cm x 41 cm x 53 cm (H,W,D)
Weight: 34.5kg
Would you like to see them live? You can visit the black one in our showroom and try it out directly with an appointment. Arrange a non-binding appointment.
We are official dealers of La Marzocco.
Do you still have questions? Contact us, we are here for you!

Details on the delivery including workshop option: The delivery is scheduled. Another person is needed on site to carry the machine from the vehicle to the desired installation site.
The installation site must be prepared, clear and clean. Deliveries are possible within a 2.5 hour radius (e.g. Geneva, Lausanne, Zurich, Basel, Lucerne, ...), please contact us if you have any questions, we'd be happy to talk about it. Please plan about 2 hours for the barista workshop (for max. 2 people) and commissioning.
We are happy for you, you will love your coffee!
shares
View full details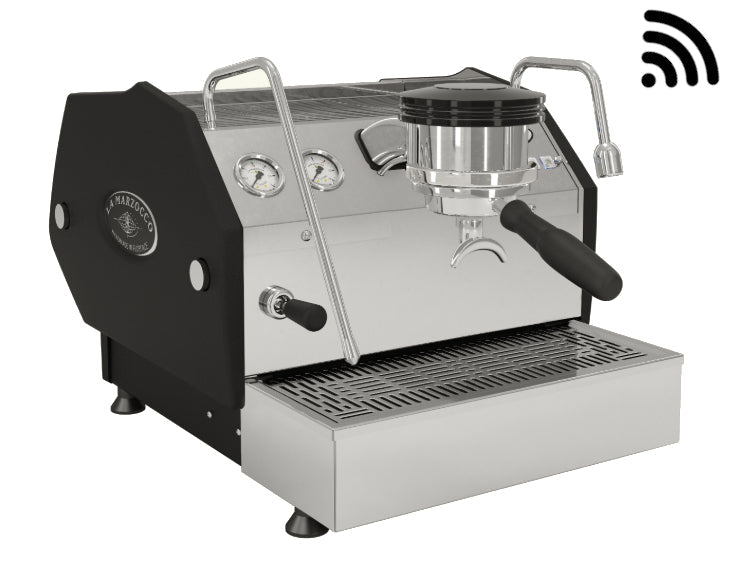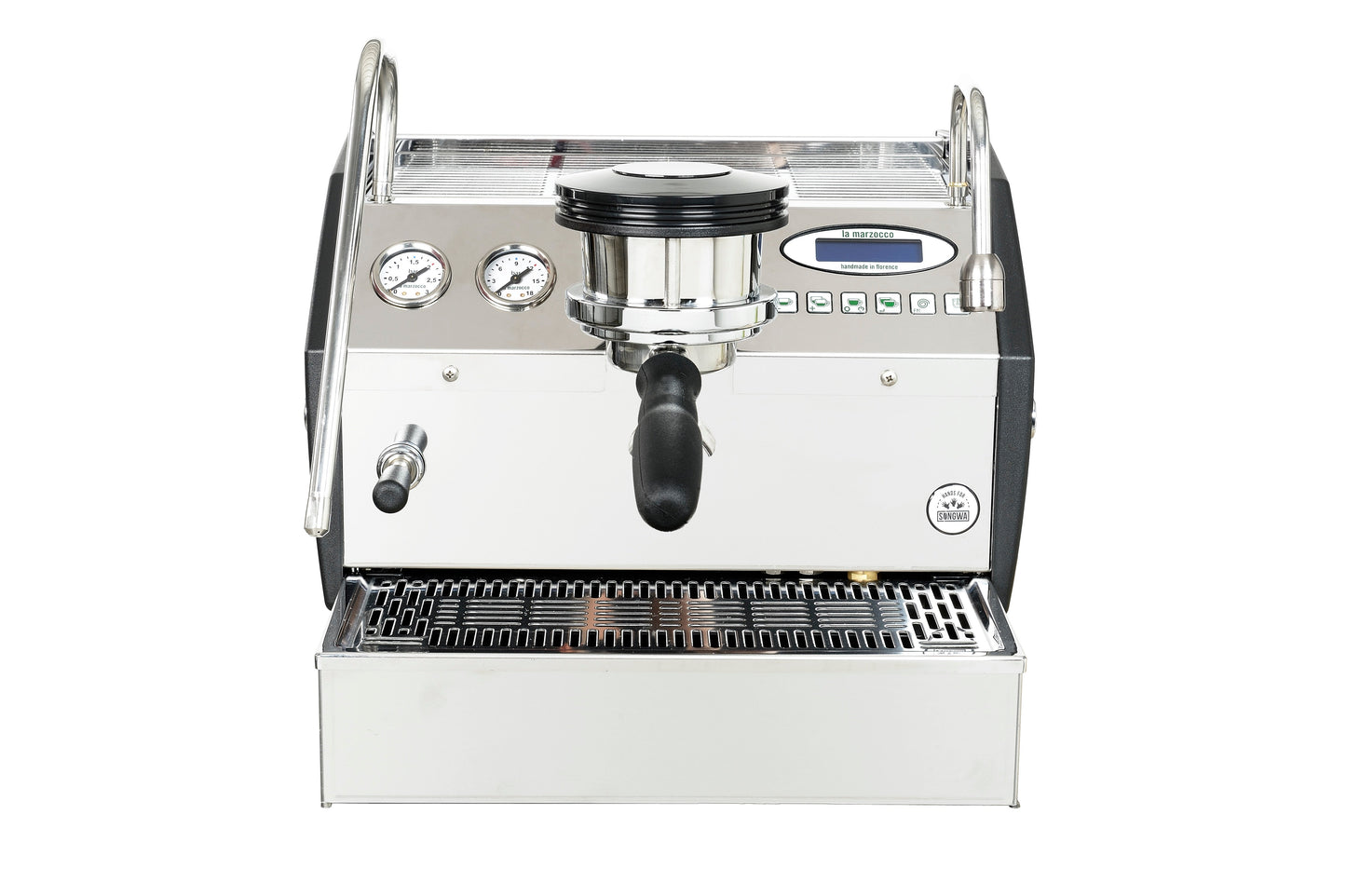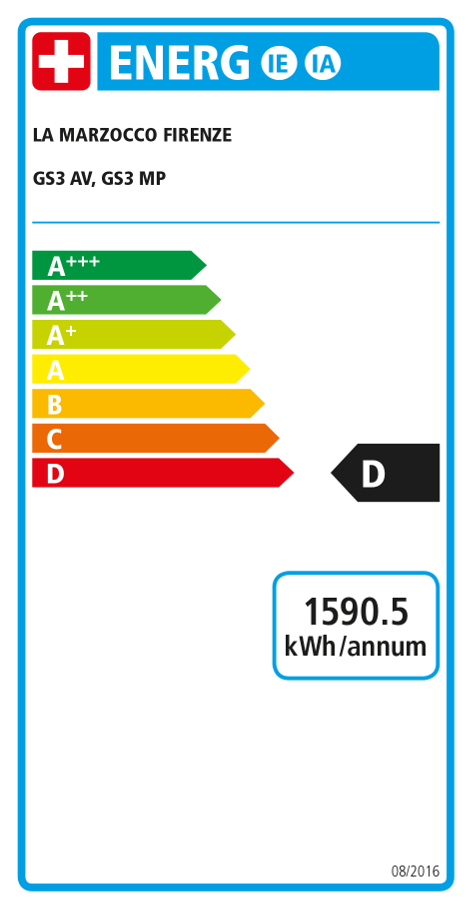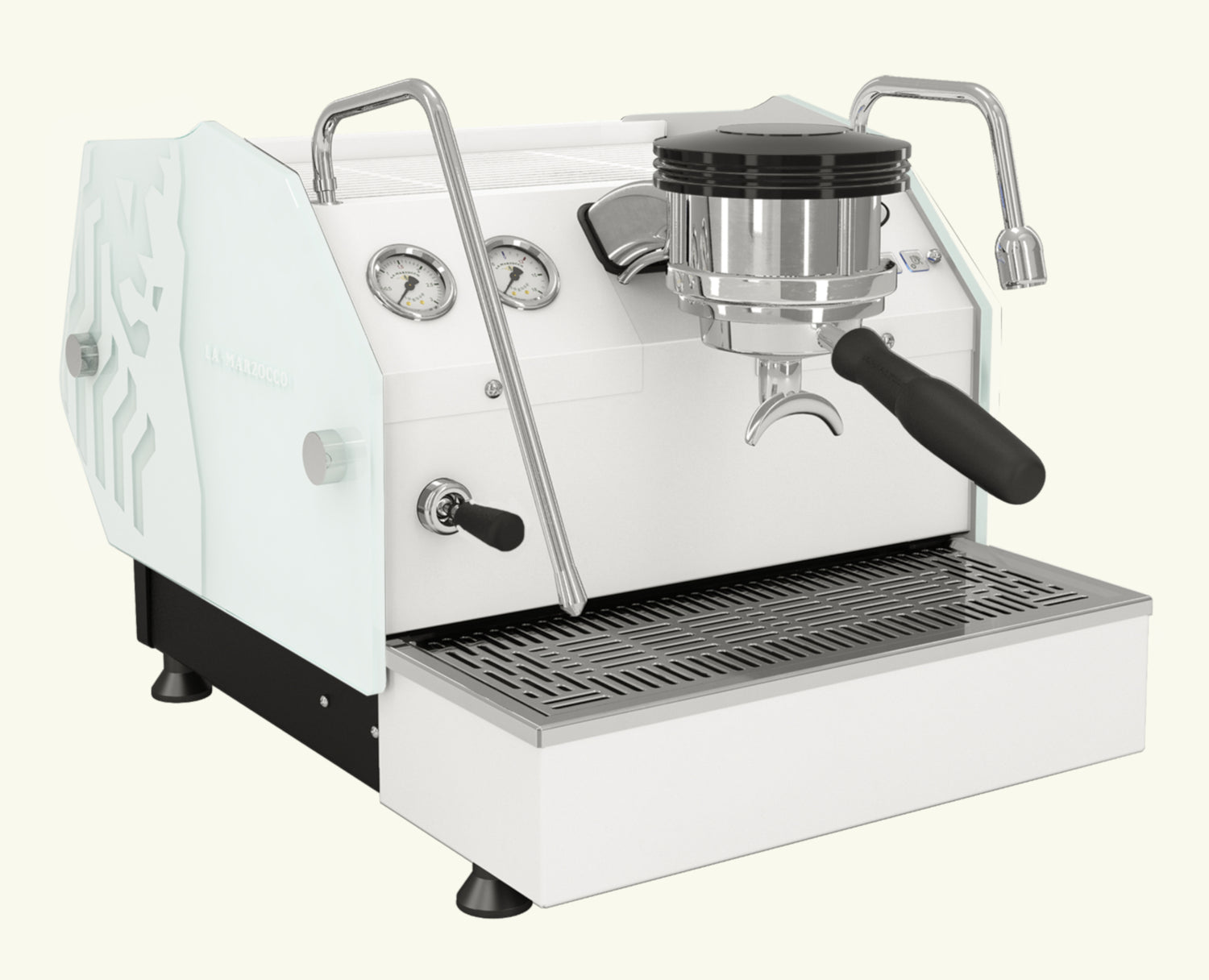 Saturated brew groups
They ensure unsurpassed heat stability, cup after cup.

Dual boiler system
Separate boilers to optimize espresso brewing and steam generation.

Built-in pump
Makes the GS3 ideal for the home.

Dual PID (brew kettle and steam kettle)
Makes it possible to electronically control the temperature in the brewing and steam boiler.
Ruby Gigleur
Ruby Gigleur resist wear and calcification.

Insulated boilers
Reduce energy consumption while stabilizing temperature.

System for thermal stability
the temperature of the brewing water is stabilized during the transition between the individual components.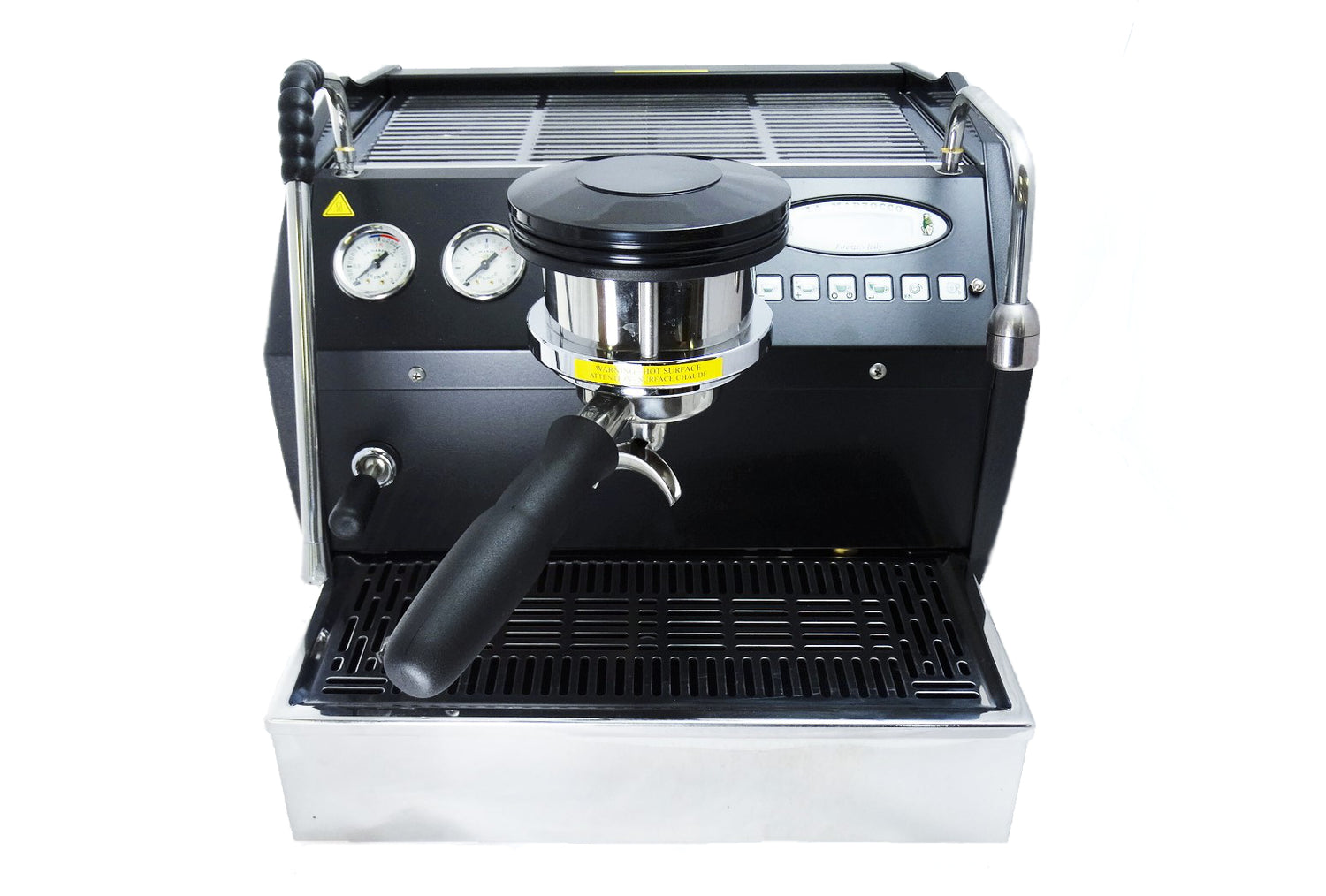 Stainless steel portafilter
Single and double stainless steel portafilters with clipped spouts (easy to remove) and integrated pad for tamping.

digital display
Intuitive programming makes it easier to set the functions.

Powerful touch steam lances
High-performance steam lances that stay cold to the touch.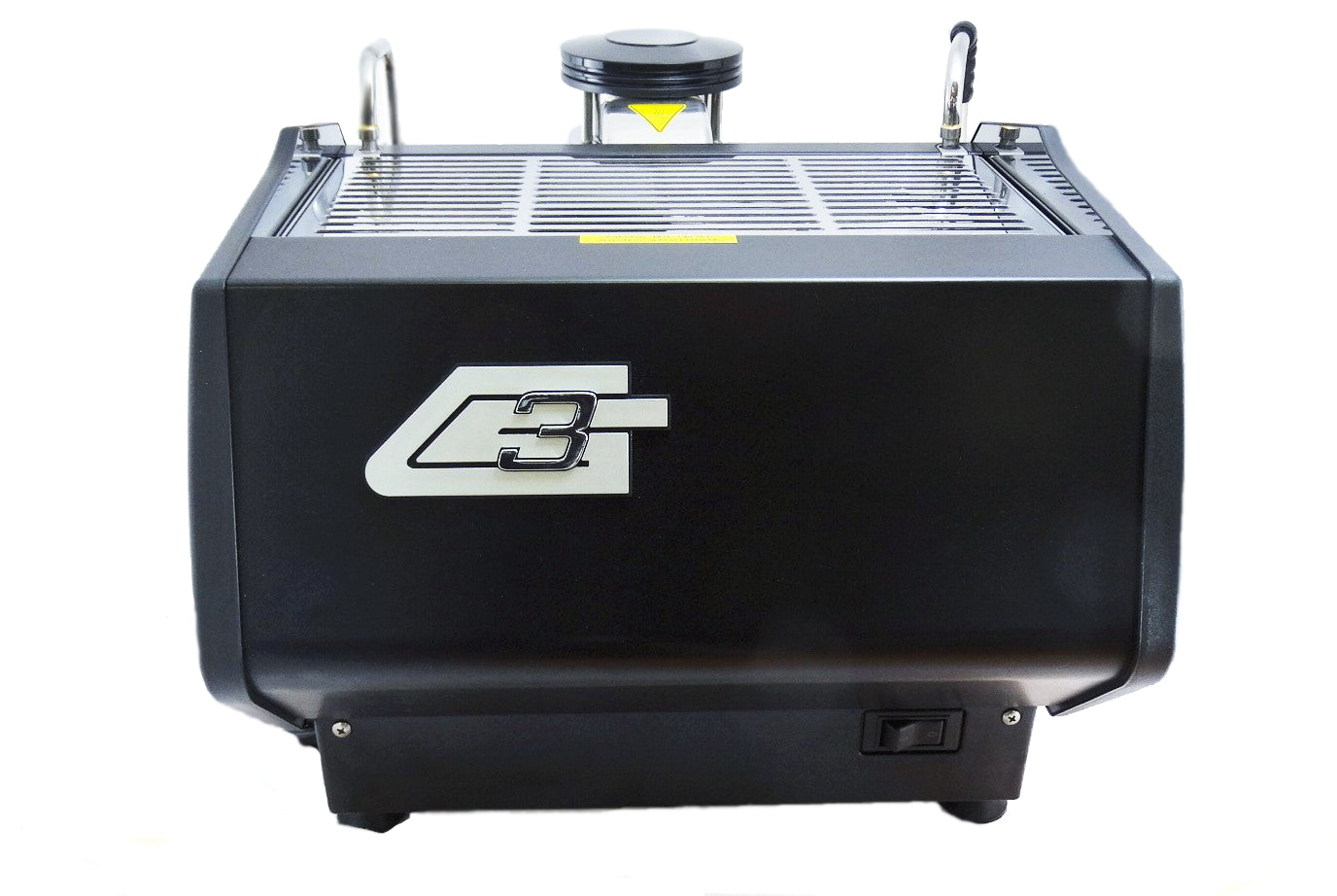 Fine mixing valve for tea water
Enables the precise setting of the tea water temperature.

water tank
An integrated water tank with 3.5 liters as an alternative to the fixed water connection, which is also possible.