ECM
Regular price
CHF 2,089.95
Regular price
Sale price
CHF 2,089.95
Unit price
per
Sale
Sold out
The little all-rounder - now with even more options!
A coffee machine that introduces you directly to the fascinating world of espresso enjoyment. Designed and manufactured in Germany, it impresses with a combination of classic design and state-of-the-art technology.
The Mechanika VI Slim Anthracite has an impressively slim design that cuts an excellent figure in any kitchen or café. With a width of only 25 cm, it fits perfectly into any kitchen interior without compromising on performance.
The machine offers a dual-circuit system that allows you to prepare espresso and froth milk at the same time, powered by a vibration pump.
The high-quality stainless steel processing not only ensures a flawless look, but also guarantees durability and reliability.
In addition to the ECM Mechanika VI Slim, you will receive an exclusive barista course at the Coffee Coaching Club. In the workshop you will be introduced to the art of preparing the perfect espresso and you will receive valuable tips and tricks from experienced baristas. You will learn the right coffee selection, grind, dosage and extraction to prepare a perfect espresso at home.
Whether you are an avid coffee lover or a beginner looking to improve your skills, the ECM Mechanika VI Slim inclusive barista course at Coffee Coaching Club is the ideal way to take your coffee experience to the next level.
Very compact design
Practical toggle switch with many different options:
- Three temperatures selectable (120° C, 124° C, 128° C)
- Pre-infusion ON/OFF
- ECO mode ON/OFF
High quality ECM brew group with innovative stainless steel bell
Large stainless steel kettle (2.2 l)
Convenient access to the water tank thanks to the removable cup-warming surface
2 angled ECM portafilters with balanced weight distribution
Easily accessible expansion valve for individual adjustment of the brewing pressure

250x445x395mm
Keywords: ECM Mechanika VI Slim, slim design, two-circuit, vibration pump, high-quality stainless steel, exclusive barista course, Coffee Coaching Club, espresso preparation, coffee selection, grinding, dosage, extraction.
shares
Questions? Make an appointment for a consultation
View full details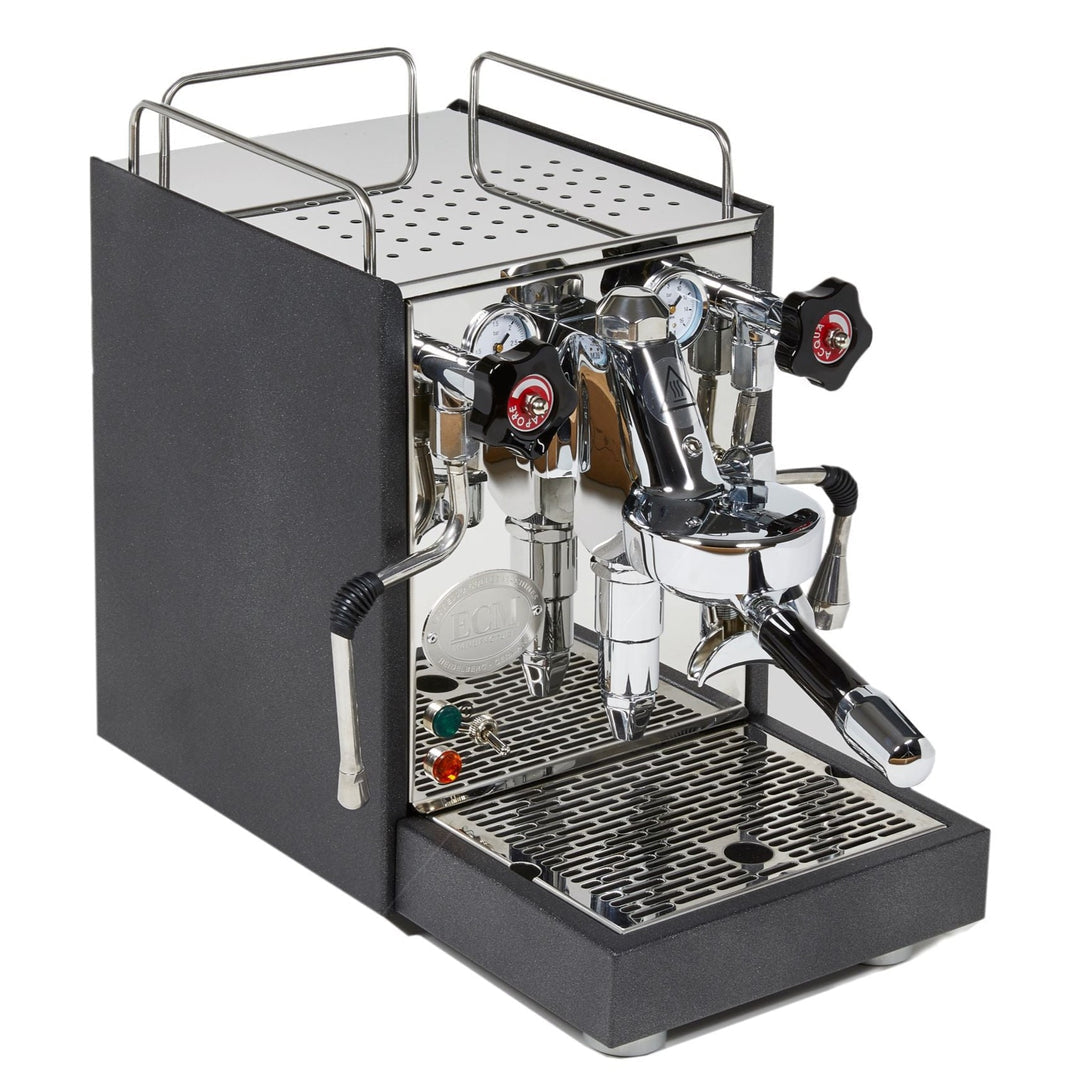 CONSULTATION APPOINTMENT
Individual coffee equipment advice at the Coffee Coaching Club Bern: We will find your perfect setup

It's no secret: the perfect cup of coffee requires the right equipment. Whether it is an espresso machine, a coffee grinder or special barista tools, at the Coffee Coaching Club in Bern we will help you to make your very personal coffee dreams come true. With our individual coffee equipment advice, we respond to your needs in order to find the perfect setup for you.

Our advice starts with listening: What is your favorite coffee? How often do you drink coffee? Do you prefer a quick espresso in the morning or a relaxed cup of filter coffee in the afternoon? All these questions help us to get a picture of your preferences and needs.

Then it's about the equipment: from espresso machines and coffee grinders to various barista tools, we offer a wide range of products. Our experienced consultants can explain the differences and advantages of the individual devices to you and support you in choosing the right equipment. We always take your individual requirements and preferences into account.

But our advice does not end with the sale. If you buy an espresso machine from us, we also offer you a barista course. In this course you will learn how to get the most out of your new machine and how to prepare delicious espresso shots. In this way you can expand your knowledge of coffee and at the same time get an intensive introduction to your new device.

But even after the purchase, we are still there for you. We know that there are always questions and that sometimes the perfect cup of coffee is a journey that requires patience and learning. That's why we continue to support you with words and deeds even after your purchase.

Our goal at the Coffee Coaching Club in Bern is not only to offer you the right equipment, but also to give you the knowledge and skills you need to enjoy your coffee the way you like it best. That's why we always strive to accompany you on your coffee journey, from advice to the cup of coffee in your hand.

Visit us at the Coffee Coaching Club in Bern and experience how our individual coffee equipment advice can make your coffee dreams come true. Because with us everything revolves around you and your coffee.