Eureka
Regular price
Sale price
CHF 68.95
Unit price
per
Sale
Sold out
Eureka digital espresso scale PRECISA
The original Eureka accessories for the home barista are finally here!
A high-quality and, above all, compact precision scale from Eureka.
Very compact dimensions
Intuitive operation without much reading
Perfect entry-level scale with all important functions
Ideal for portafilter machines
Great value for money
The Eureka Precisa smart scale makes everyday life easier for baristas
The Precisa coffee scale from Eureka is ideal for every home barista. The scale has only two touch controls and is therefore very easy to use without much reading and frills. With the timer function, it supports the home barista and coffee enthusiast in their daily passion. This can be stopped manually at any time or with the automatic switch-off, which stops the timer as soon as the weight (eg the cup) is lifted from the weighing platform. The stopped time value is displayed in both cases until the timer is reset manually by pressing a button (press and hold the button) or is continued (press the button).
Further properties and details of the Eureka coffee scale Precisa:
⦁ Scope of delivery: coffee scales, a rubberized protective pad (prevents the cups from slipping when the espresso machine vibrates), operating instructions, micro USB cable and a transparent protective cover (also suitable for
weighing coffee beans, for example, and useful when weighing the portafilter)
⦁ Manufacturer color: black
⦁ Bright LCD display with two touchbuttons
⦁ Rechargeable 300mAh battery (Full charge takes a maximum of 60 minutes)
⦁ Micro USB port for charging the battery is covered waterproof
⦁ Smart size of 105x105x16mm ideal for espresso machines (same external dimensions as Acaia Lunar)
⦁ Weight: 270g
⦁ Low height allows taller cups under the portafilter
⦁ Start and stop the timer with a touch (e.g. also stops when the cups are removed)
⦁ Accuracy: 0.1 grams
⦁ Maximum load 2000g
⦁ The timer maximum display: is 9'59" minutes
⦁ Auto-off after 3 minutes (except when the timer is running)
⦁ Also suitable for the preparation of filter coffeeCapacity: 2000g

Steps: 0.1g
Timer: 9:59 min
Battery: Rechargeable battery (Micro-USB, cable incl.)
shares
Questions? Make an appointment for a consultation
View full details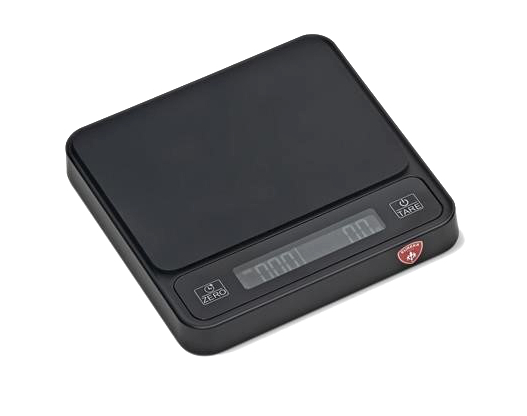 CONSULTATION APPOINTMENT
Individual coffee equipment advice at the Coffee Coaching Club Bern: We will find your perfect setup

It's no secret: the perfect cup of coffee requires the right equipment. Whether it is an espresso machine, a coffee grinder or special barista tools, at the Coffee Coaching Club in Bern we will help you to make your very personal coffee dreams come true. With our individual coffee equipment advice, we respond to your needs in order to find the perfect setup for you.

Our advice starts with listening: What is your favorite coffee? How often do you drink coffee? Do you prefer a quick espresso in the morning or a relaxed cup of filter coffee in the afternoon? All these questions help us to get a picture of your preferences and needs.

Then it's about the equipment: from espresso machines and coffee grinders to various barista tools, we offer a wide range of products. Our experienced consultants can explain the differences and advantages of the individual devices to you and support you in choosing the right equipment. We always take your individual requirements and preferences into account.

But our advice does not end with the sale. If you buy an espresso machine from us, we also offer you a barista course. In this course you will learn how to get the most out of your new machine and how to prepare delicious espresso shots. In this way you can expand your knowledge of coffee and at the same time get an intensive introduction to your new device.

But even after the purchase, we are still there for you. We know that there are always questions and that sometimes the perfect cup of coffee is a journey that requires patience and learning. That's why we continue to support you with words and deeds even after your purchase.

Our goal at the Coffee Coaching Club in Bern is not only to offer you the right equipment, but also to give you the knowledge and skills you need to enjoy your coffee the way you like it best. That's why we always strive to accompany you on your coffee journey, from advice to the cup of coffee in your hand.

Visit us at the Coffee Coaching Club in Bern and experience how our individual coffee equipment advice can make your coffee dreams come true. Because with us everything revolves around you and your coffee.