Eureka
Regular price
CHF 1,179.95
Regular price
Sale price
CHF 1,179.95
Unit price
per
Sale
Sold out
Silent technology:
Quiet grinding anywhere: in a café or at home
The exclusive anti-vibration solution reduces grinding noise by around 20 dB im
compared to traditional grinders and paves the way for a new way of grinding
Coffee grinding: precise and silent.
"High speed" grinding:
The "High Speed" symbol identifies the coffee grinders that have a very high speed
milling speed can be achieved.
The special grinding disc-motor combination developed by the R&D department
allows Eureka mills to achieve an extremely high grinding speed and
makes it possible to serve the customer faster while preserving the
Quality of the coffee in the cup
Infinitely variable micrometric grind adjustment (Eureka patented):
This system (Eureka patented) ensures unparalleled accuracy
and saves time and coffee.
The infinitely variable micrometric system is the only one based on the movement of the
lower grinding discs. It guarantees an incomparable grinding performance and
allows maintenance work to be carried out without having to adjust the degree of grinding
lose.
"High speed" maintenance:
Easy and quick maintenance
The typical mechanical design of the Eureka grinding disc carrier, which has only 9
Screws can be dismantled, allowing for quick replacement and a
thorough cleaning of the grinding discs. This saves both precious time as well
coffee saved.
ACE System:
Anti-clotting and electrostatics
The ACE system was developed to prevent the formation of lumps
and to counteract the electrostatic charging of the material to be ground. It belongs
standard on all Eureka On-Demand grinders. By regulating the
coffee ejection, the ACE system ensures unsurpassed cleanliness, the ACE system is the common denominator of all Eureka coffee grinders. through the regulating
The ACE system ensures an incomparable coffee ejection effect
Cleanliness and very good dose of stability.
Universal, height-
adjustable
"Hands-Free" portafilter
fork
:
Useful, robust and easy to regulate.
Thanks to a specific geometry and the adjustable fork, the Eureka portafilter fork is ideal for any type of portafilter and allows the barista to
to carry out other activities during grinding.
Burrs: 75mm hardened steel
Grinding system: Color display with dosing counter and portafilter lighting
Engine:
- Traction: Direct
- RPM: 1400
- Power consumption: 900 watts / Power: 800 watts
- Power supply: single phase
Miscellaneous:
- Grinding speed: 4.5 - 5.5 seconds per gram
- Micrometric and stepless grind adjustment
- Bean hopper capacity: 300gr. (optionally available: 1.2kg and 1.4kg)
Dimensions:
Height: 570mm
Width: 180mm
Depth: 227mm
Weight: 9.5kg
Disc grinder with timer Steel electric coffee grinder Stepless
shares
Questions? Make an appointment for a consultation
View full details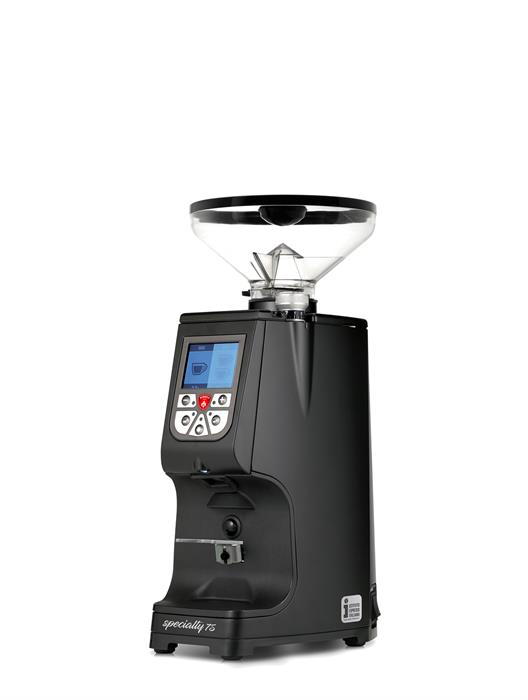 CONSULTATION APPOINTMENT
Individual coffee equipment advice at the Coffee Coaching Club Bern: We will find your perfect setup

It's no secret: the perfect cup of coffee requires the right equipment. Whether it is an espresso machine, a coffee grinder or special barista tools, at the Coffee Coaching Club in Bern we will help you to make your very personal coffee dreams come true. With our individual coffee equipment advice, we respond to your needs in order to find the perfect setup for you.

Our advice starts with listening: What is your favorite coffee? How often do you drink coffee? Do you prefer a quick espresso in the morning or a relaxed cup of filter coffee in the afternoon? All these questions help us to get a picture of your preferences and needs.

Then it's about the equipment: from espresso machines and coffee grinders to various barista tools, we offer a wide range of products. Our experienced consultants can explain the differences and advantages of the individual devices to you and support you in choosing the right equipment. We always take your individual requirements and preferences into account.

But our advice does not end with the sale. If you buy an espresso machine from us, we also offer you a barista course. In this course you will learn how to get the most out of your new machine and how to prepare delicious espresso shots. In this way you can expand your knowledge of coffee and at the same time get an intensive introduction to your new device.

But even after the purchase, we are still there for you. We know that there are always questions and that sometimes the perfect cup of coffee is a journey that requires patience and learning. That's why we continue to support you with words and deeds even after your purchase.

Our goal at the Coffee Coaching Club in Bern is not only to offer you the right equipment, but also to give you the knowledge and skills you need to enjoy your coffee the way you like it best. That's why we always strive to accompany you on your coffee journey, from advice to the cup of coffee in your hand.

Visit us at the Coffee Coaching Club in Bern and experience how our individual coffee equipment advice can make your coffee dreams come true. Because with us everything revolves around you and your coffee.